What Experience does your Diving Instructor have ?
It is advisable to know who your instructor is before signing up to a course. A good instructor should have the personality and life experience to be able to help even the slowest and most nervous person through a diving course.
Seth the Chief Instructor, has taught on an amateur basis from 1982, and on a professional basis full time from 1990. He has taught people of a wide range of abilities from all walks of life to enjoy a sport that has given him so much. Seth likes to teach his clients personally.
Member of The Professional Association of Diving Instructors, PADI
PADI Openwater Scuba Instructor
PADI Medic First Aid Instructor
BSAC Club Instructor
BSAC Advanced Instructor
BSAC Instructor in Oxygen Administration
BSAC Boat Handling Instructor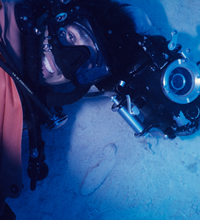 Health and Safety Executive
Diving First Aid
Gained HSE Diver Training Certificate
Registered Diving Contractor (0962)
Instructor in Underwater Photography
BA (Hons) in Film, Photographic & Video Arts
HSE Media Scuba Diver
Harbour Master
1988-89 BSAC Diving Officer of Imperial College Underwater Club.
Seth's interests include swimming, cycling, Ashtanga yoga and sailing.
Please contact Seth via e-mail or call on 07976 660468.